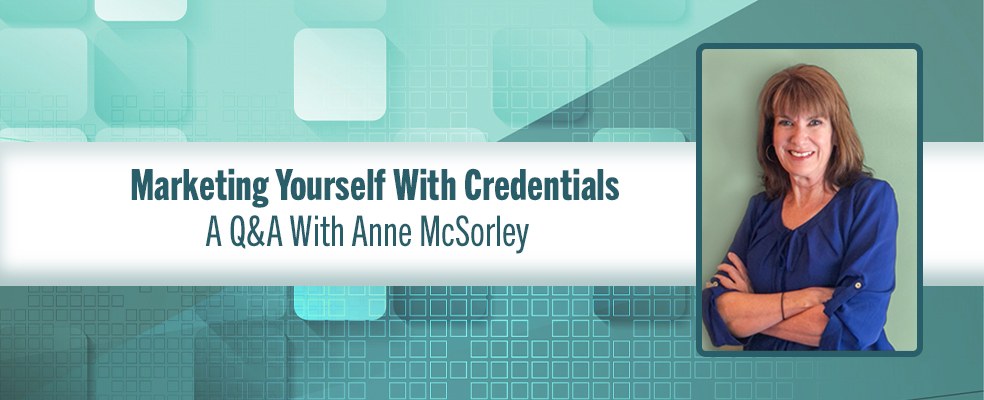 Whether you're a new counselor or a seasoned professional, developing a strong professional identity and marketing yourself are essential to growing your business. Your professional credentials not only boost your knowledge and skills to a new level, they also help clients understand your work and make better-informed decisions.
Most people outside the mental health field aren't familiar with the nuances of the many different credentials available to counselors. From licensure, to specialties, to national certification, there are a vast array of possible combinations providers may obtain.
We recently spoke with Anne McSorley, NCC, BCC, LPC, LPCS, and founder of WorkBest Consulting LLC in Atlanta, Georgia. McSorley has a graduate degree in counseling and psychological services and has been a counselor for 33 years. As an executive coach and workplace performance expert for clients across the country, she helps counselors and other professionals promote and build their businesses.
How do you recommend that counselors advocate for themselves?
I think it's important, especially in today's climate where there's more of a level playing field for mental health professionals, that counselors promote themselves through their education, degrees, and certifications. If clients only see a bunch of letters after your name, they don't always know what that means. I would encourage counselors to explain what those credentials mean, because it holds you to a higher standard. It's also important to underline our extensive training to clients because we have such exceptional ethical standards. It makes them feel safe, and that's a wonderful way to advocate for ourselves and show that we have approached our work with rigor.
How can counselors help clients have a better understanding of what their credentials represent? Is that something that you discuss right away when meeting a client?
Absolutely. I put the profession in the best light, and I like to say, "This is the credential that I have and what I had to do to get it, this is what I offer, this is why my fees are what they are, and this is the quality of care that you're going to get."
There are a lot of avenues for self-help, and there are also a lot of avenues for professional help. Let me give you a sense of what they are. Let me tell you why I believe I'm at the top of my profession and what I've done to get there. I think that is incredibly helpful and helps the client make an informed choice.
Just yesterday someone asked me what the BCC was, and the LPC. It comes up in conversations, and it comes up in intake. And if I'm pitching to do executive coaching for a team, I talk about my credentials. If someone says to me, "What sets you apart?" I have a really good, concrete answer.
Why is it important for counselors to establish a professional identity?
For a client, it's a safe harbor, because they recognize that we have been supervised, we have an ethical standard that we apply to ourselves, and we've developed an area of expertise. I want the client to know that I just didn't decide to become a national certified counselor or coach; I actually worked very hard in both of those realms to become qualified to do this work.
How does a counselor begin to create and develop that identity?
With great supervision. Get the best supervision you can, because when you get great supervision, that helps you develop a professional passion, which may even lead to a niche. I think professional passions and niches help to give you a more authentic presentation.
When you're passionate about your niche, as I'm passionate about advocating for women in C-level (chief-level) positions, right away you hear how I feel about it. It helps a client determine whether you're a good fit for each other. And more importantly, if you're not a good fit, you have the compassion and the empathy to say, "I may not be your best fit, but I know someone who would be great."
If you ask someone where they heard about your practice, what do they typically say?
Referrals! Absolutely, referrals. I have built up an amazing referral source in Atlanta, and in various places across the country, and that's by design.
How do you get yourself on referral lists at other organizations?
Not to be glib, but you call up the places you're interested in. So, I might call up the Society of Human Resource Professionals and ask, "How do I get in contact with your members?" I do that so they have a sense that in my private practice I see women who are interested in leadership development. Every business in the United States has to do more today with fewer employees since employee assistance programs are becoming obsolete; they've become external 1-800 numbers. Everyone needs help, so offer your help.
What common mistakes do you see counselors making when marketing their services?
Only talking to other counselors and not unpacking what we do, instead of making it less mysterious and more pragmatic. That is a really important way to reach people.
Can you think of any unique marketing avenues that a counselor could take?
For me, what's been really helpful is working with human resource professionals—organizations that have folks who are involved in wellness programs—because it also gives them insight that they can use later. I also make it a point to really get to know primary care physicians. When I started out, I was seeing adolescents, so I got to know pediatricians well. I don't think that counselors talk to medical providers enough. Marketing for yourself needs to be as commonplace as counseling, and if you are the kind of person who devotes a lot of time to your counseling, you also need to be the kind of person who devotes a lot of time to promoting yourself.
What other advice do you have for counselors?
I told a young counselor recently, "Dedicate office time to development. Compose 10 emails and send them out, and then follow up with phone calls." You can send them to big organizations that you know of—churches, schools—anywhere that leaders are responsible for the well-being of their employees. When you're in for your physical exam, tell your doctor what you do. When you are picking up your dry cleaning, it's OK to say, "I don't know if I've mentioned to you what I do, but I have a private counseling practice. Can I leave some of my cards?" Now that person has gotten to know you and you have established rapport. I have gotten referrals from teachers when my kids were little because I was empathetic, authentic, and caring, thanking them for taking care of my kids and acknowledging that their work must be really hard at times. As a counselor, you have to dedicate time to building relationships outside of your usual one-on-ones. One other thing—have a terrific online presence—a professional website, a LinkedIn profile, and an up-to-date Psychology Today profile.