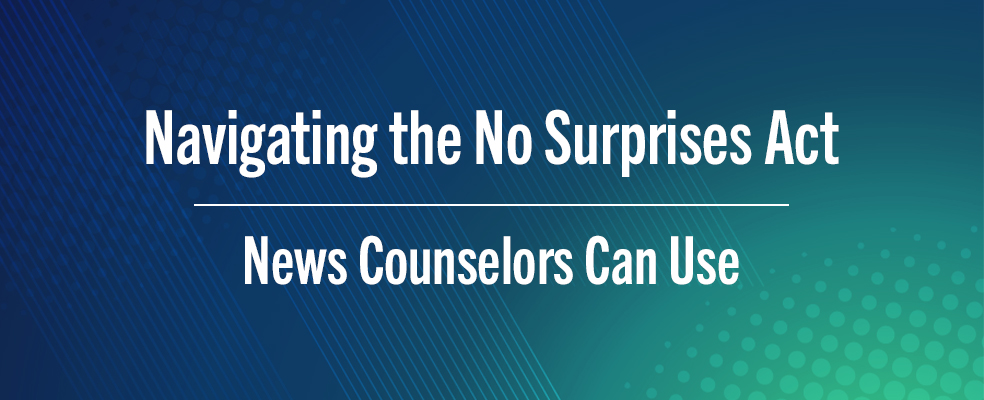 The No Surprises Act was signed into law in December of 2020 to protect the public from balance billing, or "surprise" out-of-network billing, for health care including mental health services. The law became effective Jan. 1, 2022, and all providers and facilities must comply, which has raised several questions among practitioners. This article is not intended to provide legal advice; rather, it is a general overview of some of the new provisions.
Many of the requirements, including early disclosures about fees and transparency regarding services and billing, are ethical and legal fundamentals that counselors already practice daily; however, the new law calls for a more structured scenario with mandated time frames and other details.
Notice of the Availability of a Good Faith Estimate
Under the new legislation, when a person contacts a provider, they must be asked whether they have insurance (commercial or government funded) and if so, whether they would like to submit a claim for services—even if the counselor does not accept insurance. According to the new guidelines, a new or continuing client who is self-paying, uninsured, or does not wish to submit a claim must be provided with verbal and written notices about the availability of a Good Faith Estimate (GFE) of the costs. A GFE is not currently required for clients who will use their insurance to pay for services, though that may change.
The law does not apply to people covered by programs such as Medicare, Medicaid, Indian Health Services, Veterans Affairs Health Care, or TRICARE, which have their own protections in place.
Providers and facilities must display a document stating the availability of a GFE in their lobby or waiting room (or where scheduling and costs are discussed), in the office where the service is provided, and on the home page of the counselor's website. The Centers for Medicare and Medicaid Services (CMS) has created a notice titled "Right to Receive a Good Faith Estimate of Expected Charges" that can be used to meet this requirement.
What Should a Good Faith Estimate Include?
Counselors need to understand what information is required under the new regulations. A GFE must include your name, National Provider Identifier, the tax ID number of all providers or facilities involved, an itemized list and description of the service(s), all anticipated costs, and the location where they will take place. It must also include the client's name, date of birth, diagnosis and service codes, and four specific disclosures.
A single GFE can include recurring services for up to 12 months, but the time frame, frequency, and total number of expected services must be listed. Some counselors provide a GFE for the client's first visit and then draft a new estimate for ongoing treatment before the next appointment, when they have more information to make a diagnosis. The CMS website includes instructions for providers and a helpful GFE template.
Time Is of the Essence
Even if a person does not request a GFE, as soon as fees are discussed, counselors are further obligated to provide a written paper or electronic statement as follows:
If the appointment is at least 3 business days away, it must be provided within 1 business day of scheduling.
If the appointment is at least 10 business days away, it must be provided within 3 business days.
If a GFE is requested, it must also be provided within 3 business days even if no appointment is scheduled.
If the appointment is scheduled less than 3 business days before the service, no GFE is required.
Dispute Resolution Processes
If your services end up costing $400 or more than expected, clients can dispute these charges online under a new Patient-Provider Dispute Resolution process. If the client is eligible, an independent third-party reviews the GFE, bill, and documents from the provider or facility and determines the outcome.
Similarly, the new Federal Independent Dispute Resolution system, also coordinated by a third party, helps providers, facilities, and health plans to address payment disputes for out-of-network charges and determine the proper rates for specific services.
Ensuring Continuity of Care
Clients defined as continuing care patients have additional protection under the No Surprises Act if a provider has a change in network status. Health plans must notify these individuals that their provider or facility is no longer in-network and that they have a right to continued transitional care from the provider under the same terms and conditions for up to 90 days, with some exceptions.
If you have questions about how to apply this legislation to your practice, consult an attorney or your liability insurance carrier. For more detailed information on the No Surprises Act, visit the CMS website.